Grow Your Business with Pay Per Click Advertising
Pay per click (PPC) advertising with Google Adwords, and Bing Ads, is the fastest way to drive targeted, interested and engaged customers to your website.  Every day, about 4 billion searches are made using Google and Bing. Consumers are searching for information, shopping online, comparing products, prices, or getting directions. When people want to know, buy, go or do they go to a search engine.  87% goes to Google and 13% to Bing. 
Are Pay Per Click Ads Right For You?
Do you want your business to appear when users are looking and researching different options?
Do you want your business to be there the moment someone is looking for the products and services you offer?
Do you want your business to show up on search results when businesses similar to yours are showing up?
Do you want to learn about what users are looking for and the ads they're engaging with so you can come to an informed decision on how to add more value to their lives?
  If you answered yes to any of the questions above, then PPC is something you should explore.
How Does it Work?
Pay Per Click advertising allows you to focus on the areas of your business you want to grow. You only pay when your ad is clicked. When you advertise with pay per click ads you control your message, who sees it, when and where its seen. We determine the keywords most important to your business and create ads promoting your services. When a customer searches using one of your important keywords or phrases, there is an ad auction that determines what order ads appear based on your ad quality. When someone clicks your ad we send them to your website where we track everything they did and if they turned in to a customer. Over time we will focus resources on only the elements that create leads and positive customer engagements.
Are you looking to grow your business? 
Pay per click ads (PPC) are the fastest method to grow your business. You deliver your message to the people only looking for what you do on the results pages of the major search engines. The paid ads are above all other positions. This is how google makes it's money. You only pay when a customer actually clicks your ad, however you can control precisely when and where your ad shows in the search engine results page (SERP).
Do you have a strategy to reach consumers when they search from a phone, tablet or computer?
Let us put together a plan to help you get in front of the right online customers. Consumer behavior has changed in the last decade and technology has put the control into your customers hands. We live in an on-demand world where consumers have the ability to find the answers to their questions at all times from a variety of devices. All they have to do is go to the search bar.  We ensure our clients don't miss these opportunities. We handle all the aspects of your Pay Per Click Advertising  (PPC) and report back to you as leads come in.
How many leads come in from your online advertising? What did they type?
Best practice with internet marketing is to track all the inbound leads, that we can.  This includes: pdf downloads, list sign ups, submitted forms, phone calls. chats and engagement data that gives us an idea what customers are doing on your site.
Search Engine Results Page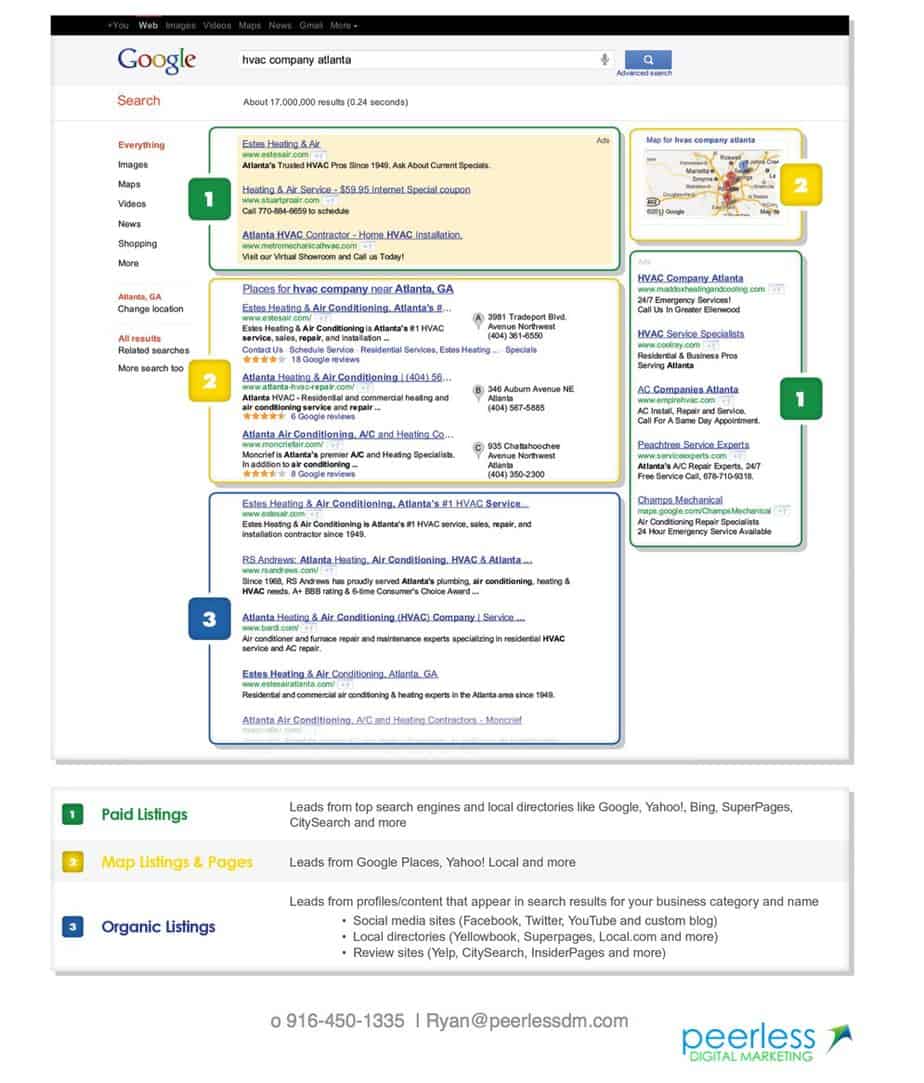 PPC Campaign Features:
Google Ads, Bings Ads, Amazon Ads

Custom keyword discovery & setup.

Text ad design & ad group setup.

Geo target design & setup.

Hyperlocal integration with Google Maps.

Deployment on other search engines besides Google

Historic Negative Keywords List 

Enhanced campaigns w/ad extensions

Device specific campaigns

Landing page and ad

 

A/B testing

Tracking of clicks, calls, emails and call recording

Ongoing monthly tune ups and reviews.

Online access to reporting
PPC – What we do:
Our super power is putting your online offer in front of your ideal audience and capturing leads.
Our pay per click ad campaigns use tracking, placement and bid budget software. We have developed a system to concentrate on the elements of your campaign that create leads and engagement. Over time with the data we collect we will drive more leads by focusing only on the elements of your internet marketing such as keywords, positions and bid prices that actually turn into paying customers.
Increase Leads With Google Adwords & Bing Ads –  Call Ryan  916-450-1335 
Return on Ad Spend – ROAS  
Depending upon your goals we can place your ads on any of the major search engine publishers. We can control when and where your message shows up in the search engine results (SERP) .  Over time we compile an active database on what keywords the potential customer typed, what ads they clicked as well as what they actually did when they landed on the website.  As we gather the information we will adjust the ads, keywords and bids in relationship to the actual results, allowing your business to get a better ROAS as the campaign runs.