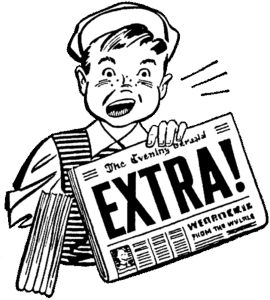 On Friday Sacramento based McClatchy entered into a bankruptcy auction process, with over 20 interested bidders.  McClatchys largest creditor, hedge fund Chatham Partners is seeking to acquire the company as is, however the move opens up the possibility for other outside bidders.  The squeeze is on as all parties are looking to maximize value,  shed debt and pension obligations.
At this moment in time the  5 biggest newspaper chains could become two companies. Gannett, GateHouse, McClatchy, Tribune, and Alden Global Capital's MNG Enterprises. With the onset of business closures and temporary business shutdown due to Covid, the loss of advertising dollars could push the industry to consolidate further.
Many of these organizations in their bloat, purchased digital advertising operations too. I used to worked for one, which has been consumed by Gatehouse. As print revenues drop you can be sure that the squeeze is on for these business units to perform and pull as much profit out of their operations as possible often at the expense of their clients. That is why you need a trusted advertising partner like Peerless.
Here is a list of notable media consolidations since 2005.
2005 Fortress was renamed to Gatehouse.
2006 McClatchy buys Knight Ridder and sells a bunch of local papers to News Media Group
2007 Media News Group owned by Alden Capita starts the recession buying dozens of regional newspapers
2011 Hearts acquired 100 magazine titles from Lagardere
2010 Hearst acquires digital ad agency iCrossing
2012 Surewest Directories purchased by New Media Investment
2012 Dex Media and Super Media Combine to form Dex Media
2012 21st Century Media was an American Media Company, formerly Ingersoll Publications.
2013 MediaNews Group and 21st Century Media merged into Digital First Media Company- Alden Capital
2014 News Corp sells Dow Jones media group to Newcastle owned by Gatehouse
2014 Gatehouse buys six newspaper groups
2014 News Corp buys Harlequin, Move inc, Realtor.com
2014 Freedom sells the Daily Press and the Desert Dispatch to New Media Investment Group
2015 Tribune Publishing acquires San Diego Union Tribune becoming California news group.
2015 Gatehouse buys Halifax and its 36 newspapers.
2015 Gatehouse buys Stephens Media
2016 Gatehouse buys Harris Enterprises 6 Papers
2016 Propel Marketing purchased Thrive Hive
2016 Propel Marketing bought by News Media Investment Group ( Gatehouse)
2016 News Corp buys UTV Media
2016 Reach Local bought by Gannett
2016 Freedom Communications sold to Digital First Media.
2016 Digital First purchases Freedom Communications and its newspapers
2017 Gatehouse buys Dix Communications 30 newspapers.
2017 Gatehouse buys Calkins Media 4 papers and digital operations
2017 Gatehouse buys Morris publishing group and its 41 publications
2017 Gatehouse buys EA Sherman and the Newport Daily News
2018 Gatehouse buys Oregons 2nd largest paper The Register Guard
2018 Gatehouse buys Massachusetts Media Properties
2018 Gatehouse Buys Austin Statesman
2018 Gatehouse purchased companies in Ohio, Oklahoma, Indiana, New Jersey,
2017 Tribune acquires New York Daily News
2017 acquisitions were fueled by specific capabilities.
2017 Hearst buys the Pioneer Group
2017 Dex Media Buys Yellow Pages YP  becomes DexYP
2018 Boston Herald sold to Digital First Media,
2018 Cox Media sold media assets to News Media Group.( Gatehouse)
In the first quarter of 2018 there were 100 agency related deals.
2019 Cox media sells cox media group to Apollo Group Management.
2019 First Media made an unsolicited bid on Gannett, Gatehouse ultimately purchased Gannett.
2019 Alden Capital Purchased 32% of Tribune Publishing
2019 Vox media acquired New York media online brands
2020 MediaNews Group purchased the assets of Red Wing Publishing/Big Fish Works
2020 McClatchy files for chapter 11 bankruptcy
Gatehouse is now the largest newspaper publisher in the United States. 
The Future looks expensive for advertisers

Dramatic consolidation across local TV, radio and newspapers is a key part of cuts, and it seems set to increase further in 2020
Hedge funds squeeze the last bit of profits from newspapers
Even Warren Buffet gave up on newspapers in 2019, selling buffett media to Lee enterprises.
Poor representation in local communities will impact the continuing local journalism crisis.
Readership Numbers.
Top 10 U.S. Daily Newspapers
* USA Today – 1,621,091.
* The Wall Street Journal – 1,011,200.
* The New York Times – 483,701.
* New York Post – 426,129.
* Los Angeles Times – 417,936.
* The Washington Post – 254,379.
* Star Tribune – 251,822.
* Newsday – 251,473.
Peerless Digital Marketing creates integrated web presence strategies. Multi-screen strategies that help businesses engage with potential customers at the right time and place in the online world.  Call Ryan Today 916-450-1335. 
Specialties: Internet Marketing & Digital Media Strategy | Google Adwords Certified | PPC | Google Analytics | Merchant Accounts | Programmatic DSP Display | Ad Trafficking | Social Ads| Video Ads | Email Marketing | Web Site Conversion Strategies | Adobe Creative Suite | Word Press | Yelp | Data- Aggregators & Listings | Phone Tracking| Mobile App | Geo-Fence | IP Targeting | Live Chat Technologies | YouTube Video | iHeart, Pandora & Spotify